Taylor Boren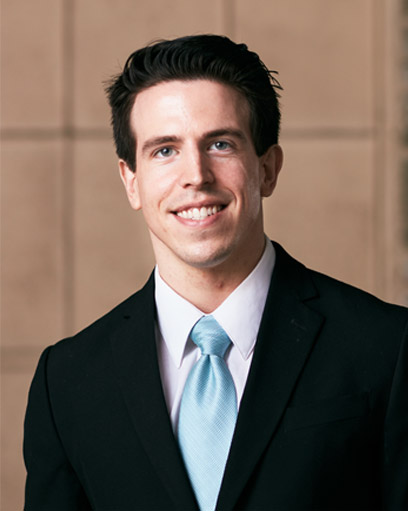 Education:
University of Washington in Seattle, B.A. and B.S. (2012)

Bachelor of Arts in Law, Societies, and Justice

Minor in Philosophy
Minor in Political Science
Minor in Human Rights

Bachelor of Science in Psychology

Berkeley Law School at the University of California, J.D. (2017)
Bar Admissions
State Bar of California
State Bar of Washington
State Bar of New York (pending)
Professional Biography
Taylor Boren is an associate attorney with Manly, Stewart & Finaldi. He attended the University of Washington in Seattle as a Mary Gates Scholar, graduating with a Bachelor of Science in Psychology; Bachelor of Arts in Law, Societies, and Justice; and minors in Philosophy, Political Science, and Human Rights. While completing his undergraduate education, Taylor worked extensively with the Center for the Study of Health and Risk Behaviors (CSHRB) on cutting-edge psychological research, particularly research to improve treatments for post-traumatic stress disorder (PTSD) in trauma survivors. Taylor graduated with Departmental Honors and, at graduation, was awarded the Karin Stromberg Award for Contribution to Social Justice, given each year to the "graduating senior who most impressively combines high academic achievement and distinguished service actively contributing to the advancement of social justice."
Following college, Taylor received a Fulbright Scholarship from the U.S. State Department. As a Fulbright Scholar, Taylor led a research project in Jonkoping, Sweden, designed to better understand the poor developmental outcomes for children with profound intellectual and multiple disabilities (PIMD). His research was published in the Journal for Policy and Practice in Intellectual Disabilities, and Taylor has lectured about his findings at conferences in Vienna, Austria; Berlin, Germany; and Stockholm, Sweden. He also lectured at Jönköping University's Graduate School of Health Sciences about identifying and addressing the underreported prevalence of PTSD in mainstream society.
Taylor attended Berkeley Law School. There, he worked as a Staff Member with the Veterans Law Clinic in San Francisco, helping veterans and trauma victims navigate the complexities of the Veterans Administration and filing on their behalf in federal court to challenge benefit denials. While still in law school, Taylor began cultivating extensive civil litigation experience, working with a prolific firm in Washington State. By his second year of law school, Taylor shared a co-authorship credit for a chapter in a legal treatise, published by the Washington State Association for Justice (WSAJ), regarding the use of expert testimony in civil litigation. At Berkeley Law, Taylor also founded the Berkeley Entrepreneurship Society. During his final year in law school, Taylor received 1st Place in the prestigious Pircher, Nichols & Meeks Negotiation Competition.
Taylor has acquired extensive experience in child sex abuse litigation, both during and following law school. While litigating in Washington State, Taylor contributed significantly to cases involving child abuse on Indian Reservations in Central and Eastern Washington (navigating the web of state and federal sovereignty), a high-profile case involving an elementary school teacher manufacturing child pornography in his first-grade classroom, and instances of child grooming and sex abuse by a middle school instructor to which the administration repeatedly turned a blind eye. More broadly, Taylor litigated to change what constitutes "notice" of sexually inappropriate behavior by physicians in medical settings, playing an instrumental role in a major case predicated on implementing timely modifications to outdated standards.
More recently, Taylor has continued his academic scholarship and public service, working with a regional NGO in Eastern Ukraine to improve human rights outcomes and social services to vulnerable populations, as the country recovers from the ongoing war, particularly addressing the needs of children with special needs and disabilities. In September 2018, Taylor was invited as a "Key Speaker" at the Kharkiv International Legal Forum, hosted by Yaroslav Mudryi National Law University. He remains active in human rights and disability law, particularly areas involving children and other vulnerable populations affected by trauma.