Cristina J. Nolan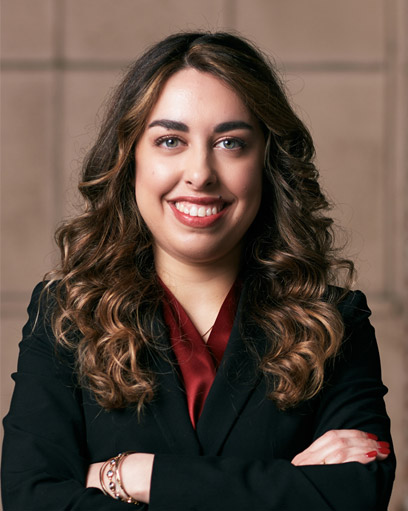 Education
California State University, Fullerton, B.A. (2014)
Chapman University Dale E. Fowler School of Law, J.D. (2017)
Practice Areas
Bar Admissions
Additional Information:
Cristina is a member of the Orange County Bar Association and its Young Lawyers Division.
Cristina J. Nolan is a Southern California native who attended California State University, Fullerton and obtained a Bachelor of Art Degree in Political Science, with a minor in Spanish. Thereafter, Cristina attended Chapman University Dale E. Fowler School of Law.
While at Chapman Law, Cristina was a member of the Mock Trial Board, an ABA Arbitration Competition Regional Semifinalist, a member of the Minority Law Students Association, Vice President of the International Law Society, and became certified as a mediator. Cristina gained practical legal experience by serving as a judicial clerk to the Honorable Frederick Aguirre of the Central Justice Center Superior Court of California, and as an extern in the Anaheim City Attorney's Office.
Since joining Manly, Stewart & Finaldi as an associate attorney, Cristina has worked exclusively in the personal injury division, representing survivors of sexual abuse, harassment, and molestation, against school districts, public entities, private entities, sports organizations, and many more. Many of the survivors Cristina represents are children, adults victimized as children, or vulnerable adults. Cristina has been heavily involved some of the most significant sexual abuse cases in the nation, including those against Redlands Unified School District and Torrance Unified School District. As a result, Cristina has assisted in obtaining six-figures and multi-million-dollar settlements on behalf of her clients.
Cristina, along with the legal team at Manly, Stewart & Finaldi, strive to do what is best for their clients: fervently protect their clients' best interest by seeking justice to help their clients heal from the sexual abuse, harassment, and molestation they have suffered at the hands of individuals of authority. That is no easy task; however, Cristina and the legal team at Manly, Stewart & Finaldi have the tools, experience and drive necessary to accomplish such a goal.